Serving the Gumbo
A steaming pot of gumbo is a great party dish, dinner or anytime. Serve it with a heaping mound of cooked white rice in the center of each bowl, accompanied by French bread, potato salad and green salad or PO' BOY sandwiches (deep-fried shrimp, oysters, sausage, pork or chicken with lettuce and tomato on French bread). The legend of the PO' BOY begins in 1920's New Orleans, when streetcar workers went on strike. A local restaurant wanted to help these men out when they visited the restaurant and provide alot of food for a small amout of money. They took French bread and stuffed it with just about anything they could find. They called the sandwich the "Poor Boy" for the men they were trying to help. Over the years the name has been shortened to PO' BOY, a tradition of New Orleans. Add your favorite beverage and this is guaranteed to satisfy any appetite and taste.




Depending on where you are serving your gumbo depends on how you might want to present and compliment your gumbo. If you are serving away from home, use paper bowls, plates, plastic cups and soup spoons. Popeye's Chicken Po' Boy Sandwiches and French Bread. 7-Up/Sprite and .5L bottles of water. If your are serving @ home put out your best "Everything", Popeye's Chicken Po' Boy Sandwiches and French Bread. 7-Up/Sprite, .5L bottles of water, Red (an inexpensive Chianti, maybe) and White (an inexpensive Pinot Grigio, maybe) wines.

Reheating your gumbo: Only reheat portions of your gumbo at a time or place all in a crock pot on low to reheat, this is precisely controlled heat. Spray crock pot with a vegetable based non-stick spray.

Bon Appetit!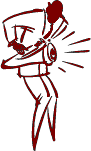 Today's Date and Time are
Last Updated

By